We may have come in sixth overall, but we totally wiped the plate in judge's choice! Be proud of yourselves, girls! We did good! Plus, Ash had some lovely things to say about us...
Booty item #15 - A ransom note from the boys, should they hold a demon!child hostage in order to trap demon!parent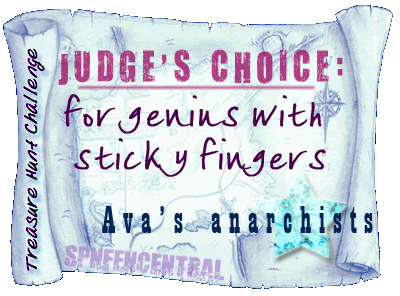 Some serious thumbs up for actually CUTTING and STICKING and then SCANNING the ransom note!
Booty item #18 - An mp3 everyone should hear (and why)
Dude. A fandom mp3 that I CANNOT STOP LISTENING TO! The lyrics, the tune, all is absolute squee: The Balled of Jensen and Jared.
Booty item #19 - Proof that the Jackalope exists
We totally adored the uber convincing article you guys put together, complete with snarky wit. And a fic link! Genius!
Booty item #23 - Pick an online fandom charity and make a banner to publicise it
This is just pure poetry in the form of art. Kudos.
And I'm not cutting this because I want the world to see that we kicked ass!